Testimonials
I began renting my vacation home in May of 2016. I quickly learned that it was an overwhelming task to do the cleaning and maintenance of a 2400 square foot, 5 bedroom, 3 bathroom vacation rental from almost 6 hours away, and I tried to find a management company to take over that aspect of the business. Unsuccessful, I started calling cleaning companies in the area. Most of them never even returned my calls. The first company I hired called the day before my guests were leaving and cancelled, so I had to take the day off work, make the drive and get the house ready for the next guests. I called Ted Young, the owner of GotYaCovered Cleaning, and set up an appointment for the following week, and the rest is history.
Not only is Ted meticulous in the work he does, he goes above and beyond my expectations. He keeps an inventory of the items in my home, and notifies me of anything that is missing or worn. He notifies me of maintenance issues, often after he has already resolved them. He checks on my property during the winter and has met with service providers for me when there have been issues that required a professional. Without Ted, I think I would have been too overwhelmed to continue. It is a direct result of Ted's dedication that I can say that I have a successful vacation rental business.
In addition to Ted's outstanding performance in the work that he does, I want to add that he and his wife, Rose, are truly two of the most wonderful, kind and down to earth people that I have ever met. If you value honesty, integrity, attention to detail, and loyalty, you will not hesitate to call GotYaCovered Cleaning for all of your housekeeping needs.
Sincerely,
Leslie H. Thornton
Owner
My Carefree Corner
---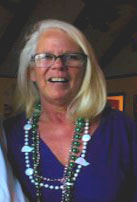 I have used Got Ya Covered Cleaning for over 2 years now and Rose and Ted are my new best friends. How wonderful it is to come home to everything shiny, smelling fresh and dog hair free. I recently re-modeled an older home and cleaning was never a job I liked. I now can leave "Cleaning" totally off the "To Do" list. This is such a bonus while working full time and carrying on with an active life. I always feel good about entertaining family and friends in my home. No more "Oh my God" bathroom cleaning or running the vacuum. They "Got it Covered". I would recommend them in a minute, just like my friend recommended them to me!
Sue Reed
Home Owner
P.S. They also help me with my minor repairs.
---
Holy cow!! The office just got a second call after referring Ted Young of Got Ya Covered cleaning service. We love getting these calls about our members! How cool is it that two different customers were so impressed they called the office to let us know. Keep up the great work and service Ted- we're super duper proud of you!
Huron County Chamber of Commerce